Lightweight Electric Scooter PRICE ON EBAY : http://www.ebay.com/itm/Carbon-Fiber-electric-scooter-water-proof-upto-23km-hr-speed-light-weight-LED-/162207061559?hash=item25c44b5637:g:VPUAAOSwGtRX0HBP 670$ + 428$ Shipping,
OUR PRICE IS ONLY 599$ WITH FREE SHIPPING !!

HOT SELLER ELECTRIC SCOOTER!
BEST PRICE . BEST QUALITY.
*Guarranteed Aftersale Service
*Directly from manufacturer!
*6 months Local Warranty for Motor and Battery
Known as the NextDrive electric scooter, its carefully handcrafted body is layered with a beautiful gloss of carbon fibre. just like the e-twow, it operates using regenerative front brakes. The rear step brake is a little bit on the small side but thats understandable. The NextDrive is truly revolutionary. It fits anywhere. In a backpack, over your shoulder, in your luggage, travellers waiting for the Walkcar to eventually happen will need the NextDrive and can get the NextDrive much sooner.
The NextDrive has the battery sizes of 10.4Ah. The NextDrive electric scooter is currently the World's lightest electric scooter weighing in at an astounding 6.5kg! Thats almost as light as some manual kick scooters. We had a ride on it for 15km and though the ride was rough as can be expected from its 5 inch wheels, the flexibility of the carbon fiber deck did absorb alot of the vibration. The motor was surprisingly strong too and gentle slopes were not a problem with our 70-80kg body load.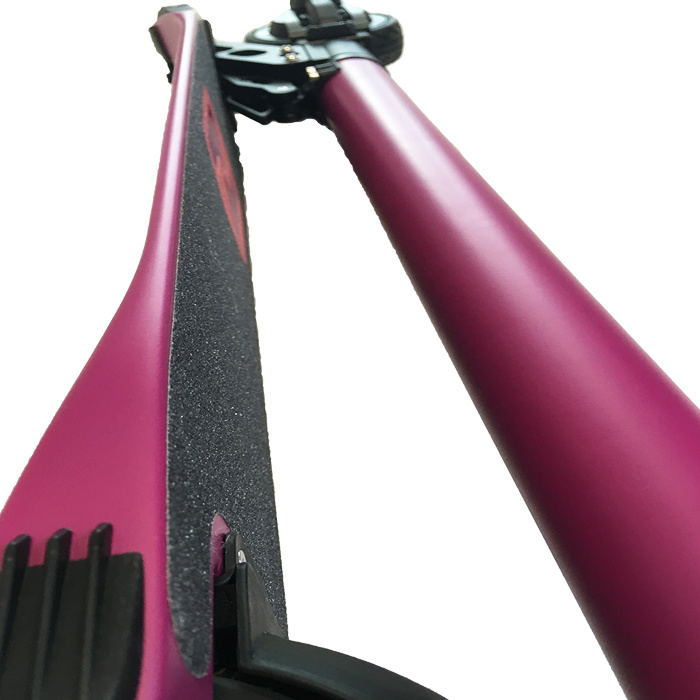 Lightweight electric scooter
Cleaning and Storage of lightweight electric scooter. If the surface of the lightweight electric scooter body stains, use a soft cloth dipped in a small amount of clean water to wipe. So If it is difficult to clean the smudges , use a soft cloth and put on some toothpaste to wipe it , and then clean with a wet cloth. Note: Rather do not use pressure water spray to spray on the lightweight electric scooter, make sure the electric scooter is at off mode, and the electric cable has been unplug as well as the charging port cover must be tightened, as this will cause electric shock or malfunction of the electric scooter.When the escooter is not in used, try to place it indoor at dry, cool place. So avoid to place the electric scooter at outdoor for a long period of time. Over exposure of sun, overheating, overcooling at outdoor will accelerate the aging of escooter's appearance and tyre damage. As well as reucing the escooter's battery life.
Battery Maintenance. Avoid overcharging of the battery, or recharge the battery when it is full exhausted. Therefore try to recharge the battery after you have used the electric scooter. So as to extend the battery life of the lightweight electric scooter.Note: So A fully charged lightweight electric scooter can last for 90 ~ 120 days at standy mode until it is fully exhausted. An lightweight electric scooter that is not fully charged will approximately last for 20~50 days at its standby mode until the battery is completely exhausted. So if the battery has not been timely charged before it's been completely exhausted. It may cause battery damage which is not recoverable, such damage is not covered under warranty.